NATIONAL THEATRE LIVE!
SALT LAKE CITY | OCT 29, 2016, 12PM
CLICK HERE FOR MORE INFO
---
NATIONAL THEATRE LIVE!
PARK CITY | OCT 30, 2016, 2PM
CLICK HERE FOR MORE INFO
MORMON STUDIES INITIATIVE
BRIAN BIRCH (UVU) NAMED FIRST
MARLIN K. JENSEN SCHOLAR IN RESIDENCE


---
MORMON STUDIES INITIATIVE
In 2010, the Tanner Humanities Center launched an initiative to support the study of Mormonism on campus and in the wider community. This initiative encourages vibrant, intellectual exploration of The Church of Jesus Christ of Latter-day Saints, its people, values, history, culture, and institutions. To learn more, click here.
---
---
FALL 2016 PANEL DISCUSSION SERIES: THE INTELLECTUAL LIFE OF MORMONISM:
Reason, Faith, and Science Among
the Latter-Day Saints
CLICK HERE


---
Tuesday, October 25, 2016, 12 - 1:30pm
Humanities Building - Carolyn Tanner Irish (CTIHB)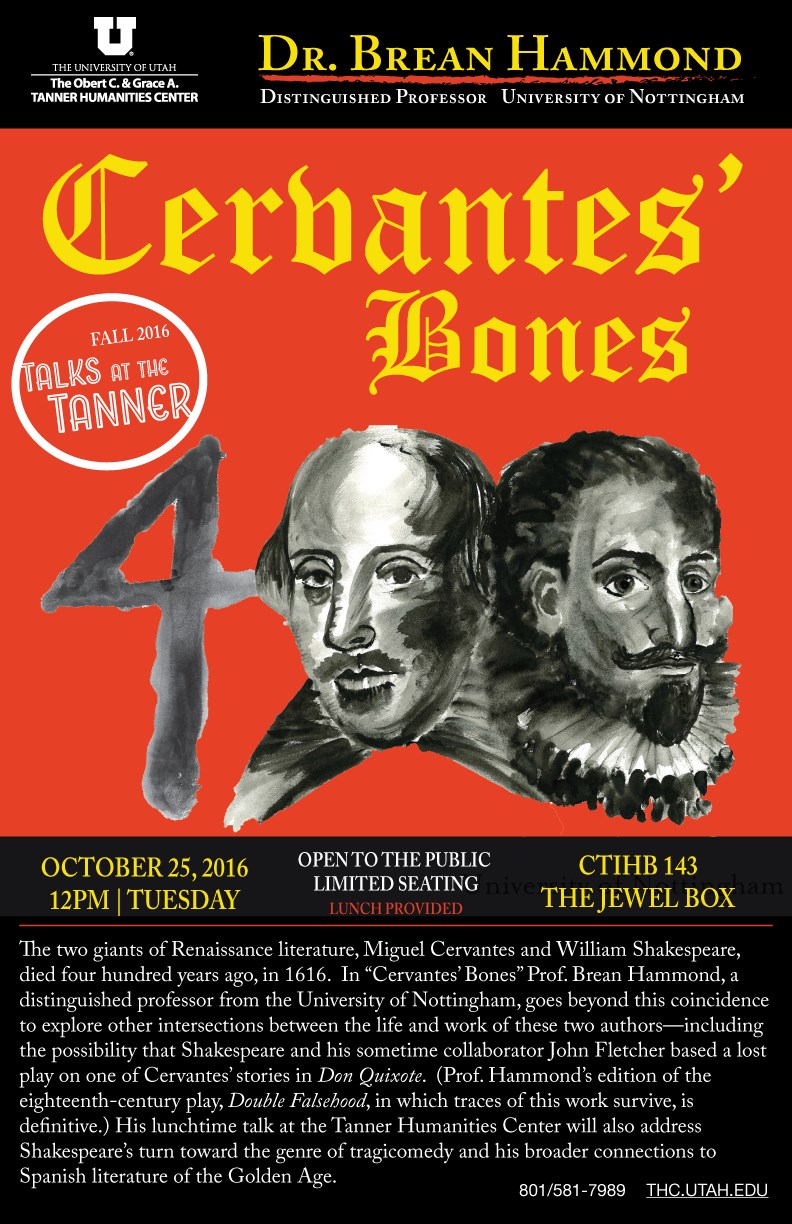 The two giants of Renaissance literature, Miguel Cervantes and William Shakespeare, died four hundred years ago, in 1616. In "Cervantes' Bones" Prof. Brean Hammond, a distinguished professor from the University of Nottingham, goes beyond this coincidence to explore other intersections between the life and work of these two authors—including the possibility that Shakespeare and his sometime collaborator John Fletcher based a lost play on one of Cervantes' stories in Don Quixote. (Prof. Hammond's edition of the eighteenth-century play, Double Falsehood, in which traces of this work survive, is definitive.) His lunchtime talk at the Tanner Humanities Center will also address Shakespeare's turn toward the genre of tragicomedy and his broader connections to Spanish literature of the Golden Age.
---
Saturday, October 29, 2016, 12 - 2:15pm
BROADWAY CENTRE CINEMAS 111 E. BROADWAY SALT LAKE CITY, UT 84111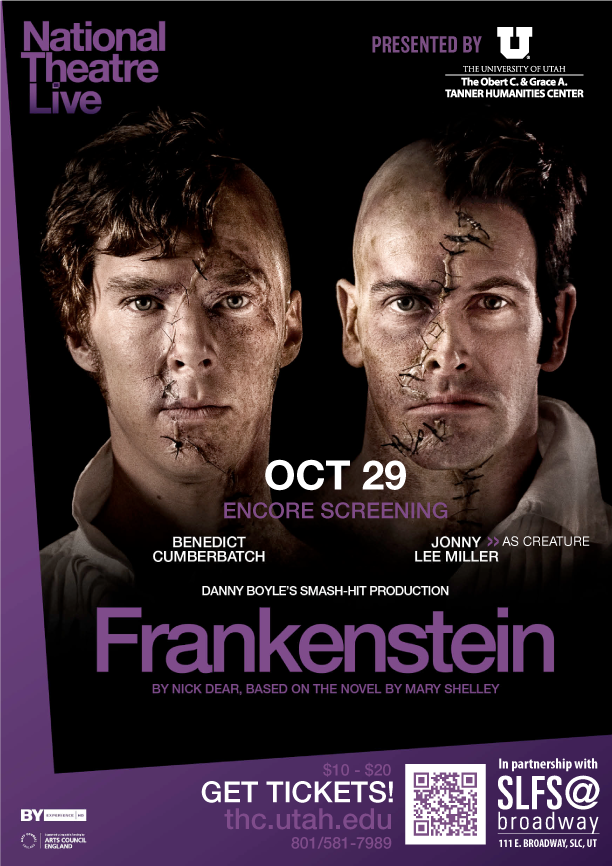 OCT 29, NOON | Doors open at 11 AM ABOUT FRANKENSTEIN Directed by Academy Award®-winner Danny Boyle (Trainspotting, Slumdog Millionaire), this thrilling production features Benedict Cumberbatch (BBC's Sherlock, The Imitation Game) and Jonny Lee Miller (CBS's Elementary, Trainspotting) alternating roles as Victor Frankenstein and his creation. The production was a sell-out hit at the National Theatre in 2011, and the broadcast has since become an international sensation, experienced by over half a million people in cinemas around the world. Childlike in his innocence but grotesque in form, Frankenstein's bewildered Creature is cast out into a hostile universe by his horror-struck maker. Meeting with cruelty wherever he goes, the friendless Creature, increasingly desperate and vengeful, determines to track down his creator and strike a terrifying deal. Urgent concerns of scientific responsibility, parental neglect, cognitive development and the nature of good and evil are embedded within this thrilling and deeply disturbing classic gothic tale. *No exchanges, no refunds. Some exceptions may apply. Seating is first come, first served. You must arrive 10 minutes before start time or your seat may be given away. ID me be required for discount pricing.
---
Thursday, November 3, 2016, 3:30pm
Humanities Building - Carolyn Tanner Irish (CTIHB)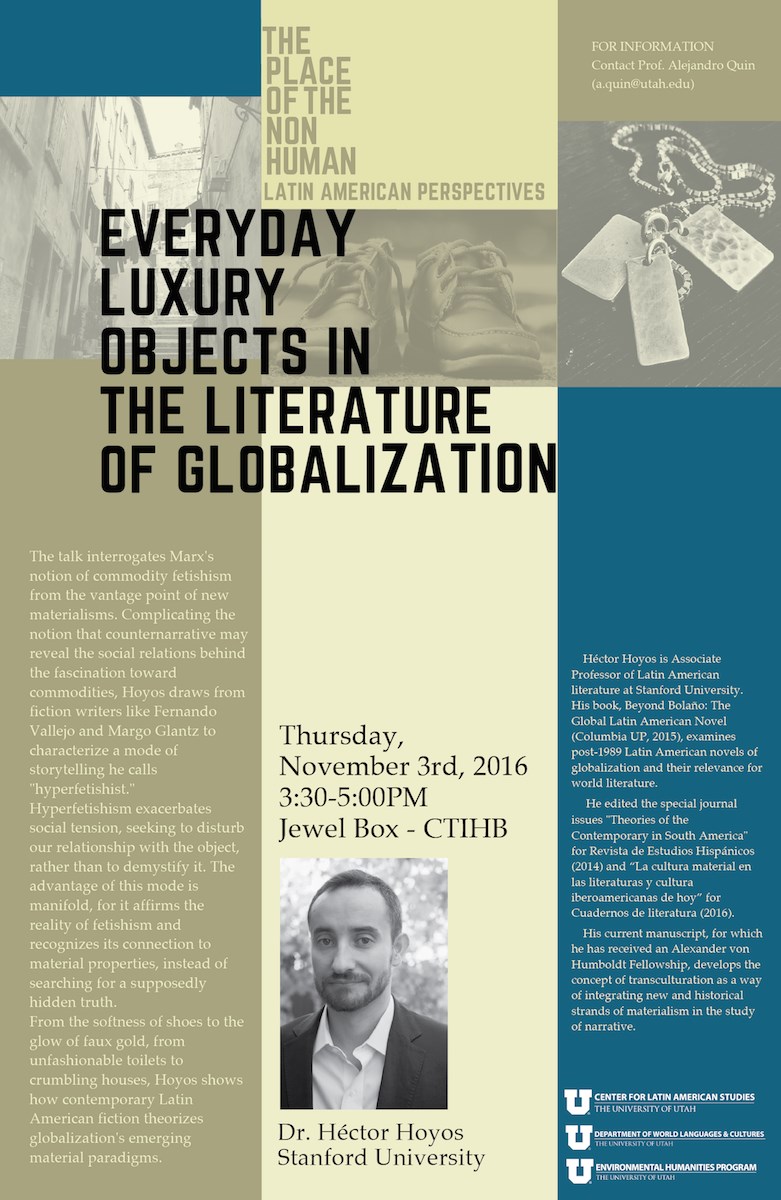 The talk interrogates Marx's notion of commodity fetishism from the vantage point of new materialisms. Complicating the notion that counternarrative may reveal the social relations behind the fascination toward commodities, Hoyos draws from fiction writers like Fernando Vallejo and Margo Glantz to characterize a mode of storytelling he calls "hyperfetishism". Hyperfetishism exacerbates social tension, seeking to disturb our relationship with the object, rather than to demystify it. The advantage of this mode is manifold, for it affirms the reality of fetishism and recognizes its connection to material properties, instead of searching for a supposedly hidden truth. From the softness of shoes to the glow of faux gold, from unfashionable toilets to crumbling houses, Hoyos shows how contemporary Latin American fiction theorizes globalization's emerging material paradigms.
---